Home of the World Famous Filbert Pump
* * *
Notes to Our Loyal Customers:
* * *
General Information

Orders are under control once again and right now our turn around time is back to normal, which means about TWO (2) WEEKS for normal orders. Special orders are another story, but not a long one. .

If you need a pump for an upcoming event PLEASE plan ahead and order early to give us time to work your order into our busy schedule. As much advance notice as possible would be great. After your initial call give us another call in about a week to give us a reminder, and an email reminding us that you need it by a certain date wouldn't hurt. We will do our best to meet your deadline.
All parts are now in stock in all colors, including two new colors, Purple and bright Green.

CRACKED BASE REPLACEMENTS:
We are no longer offering free base replacements. This is because of the new design of the base attachment.

The cost of a base replacement is now $30 plus shipping & Handling. When you contact us about a base replacement please include the base color and large tube color, as well as the pump serial number and date of manufacture, which is engraved on the underside of the pump base.

Because of the dramatic increase in shipping we will advise you of the S&H on a case by case basis for all base replacements.

If you have any problems sending us an e-mail please contact us via telephone at 518-765-4585, or e-mail us at filbertpump @ earthlink.net, be sure to remove the space before and after the at sign, we added the spaces to thwart automated data miners, and let us know what is happening. This will help our webmaster solve the problem.
* * *
Introducing the world famous
Filbert Pump
The World's Best Balloon Pump!

Inflates a 260 in one stroke! Weighs only 2½ pounds!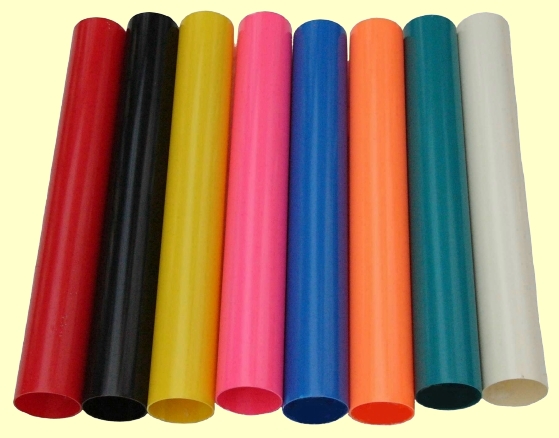 The above photos are examples of various color combinations, and the new Pump Tubes. You can create your own color combinations by selecting the color for the Base, Large tube, Handle, Small tube, Top Disk, and Top Cap. Each can be a different color so you can mix and match colors to suit your fancy!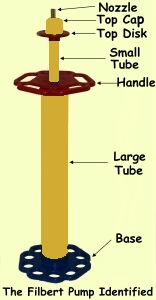 We now have TEN colors available: Red, Blue, Yellow, Black, Bright Orange, Teal, Purple, Green, White, and Hot Pink. All the parts are now injection molded, and, do they look sharp! You'll be the envy of all your friends with your new Filbert Pump. The Filbert Pump is, indeed, The World's Best Balloon Pump!
| | |
| --- | --- |
| The Seven Colors of the Filbert Pump | Filbert in person! |
Samples of Filbert Pump colors. All Filbert Pump colors are in stock.
.
Just $100, plus shipping!
Thanks for your interest in the Filbert Pump
Filbert Productions is owned and operated by Filbert the Clown,
Balloon Artist, Dr. of Clutterology, and creator of the Filbert Pump.
If you would like more information about anything we sell, would like to order
something, or would like to tell us a joke, you can call us at 518-765-4585, or you can
email us at info @ filbertpump.com, be sure to remove the space before and after the at sign. If you include your name and telephone number
we'll call you back. We try to call everyone back and answer emails within a day or so, but sometimes we get swamped with calls and emails and some fall by the wayside. If you don't get a reply within a few days rattle our cage again as a reminder.
You are visitor number

at filbertpump.com



Thanks for stopping by